40 Swoon Worthy Artists
Photo above from Mary Elizabeth Peterson
On Instagram, we polled you to find some new artists! As much as we love sharing big retailer finds for furniture, we prefer to fill in with original art in our own homes - and we love it even more when it comes recommended from our followers! We follow so many artists on social media because we always want to be ready to snatch up a piece if it really speaks to us.
Naturally, original art will almost always be more expensive, but you just can't beat the special "it" factor of an original piece. When you are able, supporting an artist through purchasing prints or original art is the way to go! Their time and talent is worth more than something you can pick up on the aisles at Target. We aren't knocking that either, but you should just know that you get what you pay for! If your budget doesn't allow for original pieces, big box retailers might be the best bet for filling your walls with pieces you like, until you're more comfortable investing in the originals. And hey - that might not be for a while! Might as well get something you like in the mean time.
Many larger retailers like Minted, One Kings Lane, and Serena and Lily sell reproductions, but also have a very strong promotion of the artist as well, to build a stronger connection between shoppers and artists. If you like something you see on these sites, be sure to do your research on the original artist. There's a chance that you can grab a piece of their's for a reasonable amount!
Following and engaging with artists that you love is also a great way to promote their work. Give these talented people some love on social media, or subscribe to their newsletters to get first dibs on new releases or sales!
Art/ Prints that we own:
Mary Elizabeth Peterson: We stumbled across this artist via Instagram. We always tag each other in giveaways, and this time we got lucky! Laura won an original work from Mary Elizabeth, and it hangs beautifully in her den! We are big fans. You may also recognize this one of her works from Pottery Barn.
One word comes to mind when we think of Emily's work… calm. We have her prints, and Rachel gifted Laura one of her handemade ornaments (so beautiful!) at a wedding shower. If you enjoy the creative process, her stories and posts on Instagram are also so real and inspiring.
You can also find her work on Minted. (left)
Find her website here - she has two originals available!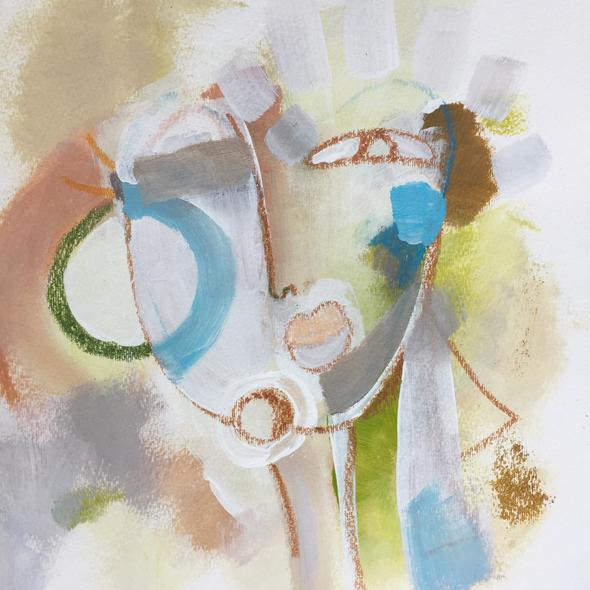 For Sale via her webpage. PS: Art is also a great gift, especially for milestone events. For their 30th birthday, Rachel gifted her twin sister an original piece of art from Erica Beck and framed in a gold bamboo frame from Framebridge!
The image to the left is Gallery Wall's watercolors styled by Monika Hibbs. we BOTH have this set of four (FOURTY DOLLARS!) in our homes and love them! They are framed in our absolute favorite frames and look much more expensive than they actually are. Add big impact for $100!
Widely known for her vibrant beach schenes, this Charleston artist has a strong following, and for good reason! She releases original collections that sell out in minutes - but if you love the look, you can snag some prints here or on her site. We have the beach scenes, and a nude will be framed soon for a bathroom renovation!
Gallery Wall - watercolor sets
Our Intaglio favorites from Olivia Arnold
Dualberi - abstract works- lots of large scale options
Studio 392 - ORIGINAL ABSTRACT PAINTING ON PAPER ROOM DECOR MODERN ART
Lauren Adams - small scale originals- great gallery wall additions, or perfect to purchase in sets!
Maren Devine Art - Love the Faces that she creates… so vibrant!
Framing Tips:
Even if art is a splurge for you, you can definitely save some money on framing if you know where to look. Especially if the art is a standard size, there are so many option for framing that you can DIY.
Framebridge: If you'd like 15 percent off your first Framebridge purchase, use this link. Framebridge shipping is included, and they can customize any size frame. Both of us have had a really great experience using their site. We will definitely use again for any non-standard size art.
Classic Wide Mat Frame: If I had to chose one thing from Target that I couldn't live without, this would be it. I would buy all of the stock from that store. Even over my favorite candle.
Acrylic Frames: So chic! We don't recommend over doing it with acrylic, but a touch here and there can fit with any style. We have this one from Amazon, and it was the perfect match for a square Teil Duncan print. It's great in a bathroom or high traffic area because it can be wiped down!
Favorites from our Instagram poll:
Anna Jarrell: Home portraits, wedding / custom illustrations - a great gift idea. Follow her on Instagram
Studio Betsy : Very reasonable and beautiful original nudes and watercolor prints. Follow her on Instagram
Kim Hassold : Colorful, lively originals. Follow this Greenville, SC local on Instagram, too
Mary Margaret Monsees - wow! This girl is talented. I love her style. She is currently building inventory but takes commissions. Follow her on Instagram. @mstudio
Lori Rayfield Original Art: Dallas based abstract artist - also on Instagram
Katie Libby Art- on Instagram @katielibby
Sally King Benedict - iconic faces! Her calendar for 2019 is on my wishlist!
Christine Flynn - also sold as prints here - beautiful contemporary landscape photography
Delie Putnam- on instagram @delieputnam - mixture of relaxing and joyful color
Mya Bessette - light, bright, optimistic original works and prints. Also sold/framed here
Taelor Fischer - stunning large scale abstracts inspired by nature and florals -
Jenn Thatcher - self taught Dallas artist. We discovered her through Serena and Lily!
Katie Corley Art - handmade ornaments and gift tags! Instagram @katiecorleyart
Juniper Briggs - abstract and figurative painter. By layering paint, pastel, and ink Juniper creates playful and energetic compositions. Also available here
Dorothy Shain- inspired by nature and travel - beautifully unique pieces
C. Brooke Ring - mix of original art and stunning lifestyle products, on instagram @cbrookering
Charleston Artist Collective - and Artist collectives elsewhere- Atlanta, Nashville, Capital (DC) locations. Local artists all in one place! Search a variety of styles, sizes, and price ranges to find something that you love.
Lauren Leader - a fellow Charlotte girl! Affordable, custom abstract art. You can reach out or see more on Instagram @leaderabstractart
Elaine Burge - colorful, layered pieces. She also has an awesome jewelry category
Kate Mullin - a Charleston, SC artist who has beautiful, textured floral works. Check out more of her prints here. She's on Instagram @KateMullinArt
Blakely Little - quintessential modern Charleston vibes here. Coastal and cool. Follow her @blakelymade. I've got my eye on the "Limeade" print!
Allison James - a really unique fusion that is unexpected and stunning. Really fun to follow on Instagram @allisonjames.co
Shields Catone - this was a new addition to our list! Perfect small scale paintings for the perfect hostess or holiday gift. Follow her @ShieldsOriginal
Jennifer Pino Paints - beautiful colors and form on large scale works (and small, too) that are inspired by travel and landscapes. She can be found on Instagram @jenniferpinopaints
Kayla Weber - Kentucky based painter who's inspired by nature and horses. Instagram: @kaylaweberart
Colleen Leach - known for her stripes on paper and wood panels, certain to fit any style!
Kendall Kirk - a blend of classical and contemporary abstract art with bright colors.
Renee Bouchon - I feel so sophisticated just scrolling her site. Follow her on Instagram to see new releases. I love the works on paper. @reneebouchon
Lulie Wallace - An artist who is very recognizable for her beautiful textiles as well as painting. Her site has some beautiful baby quilts, and a line at Anthropologie.
Any others that you love? Reach out to us at hello@followthefind.com or on Instagram!